Read Time:
5
minutes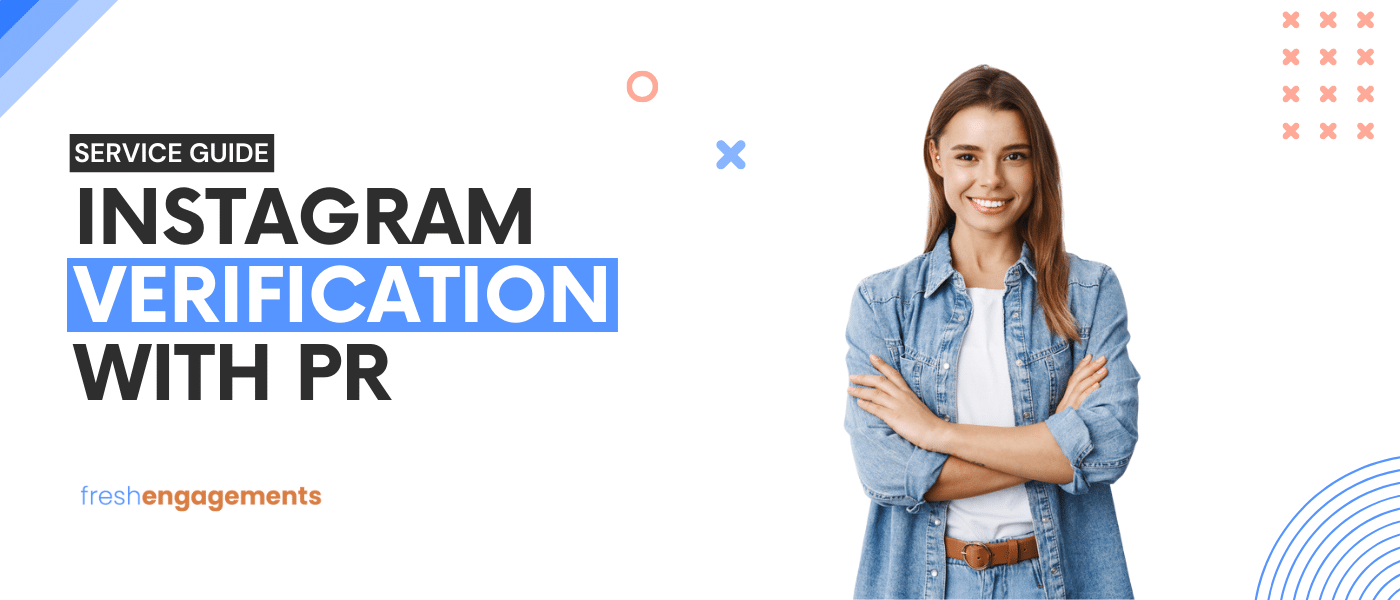 Let's talk about Guaranteed Instagram Verification with PR Package by Fresh Engagements. If you're looking to get verified on a social platform but aren't eligible – then this is for you. Let's say you'd like to get verified on Instagram, but you don't have the ten full-featured articles that are a pre-requisite. Maybe you don't have any articles at all, or maybe you have a few; we have a plan for you in either case. In this example, we'd be discussing Instagram Verification with PR package – however, this can be applied to any/all social media networks.
What is an Instagram Verification with PR package?
In this package, we basically do the PR for you that gets you verified on Instagram. And, we are the only provider in the world that provides a guarantee. And that means – you don't pay for the PR unless we get you verified. Yep, we are that confident in our work. If you have zero PR or a few features already – in either case, we can analyze your web presence and propose a PR plan using which we will get you verified. And – in a case where we fail to verify you, we will not bill you for the PR.
We have seen far too many cases wherein unsuspecting clients buy 'PR plans' from sellers looking to make a quick buck. In most cases, this PR is worthless and not credible enough to get you verified on any platform. The seller approaches clients with these PR 'bundles' with promises that it will help with verification. Later on, naturally, when the verification does not go through on the basis of this PR, the seller then tells the client that the PR work is done even if the verification wasn't, and they'd take the charges for PR.
Well, to us, that seems like a scam. Almost none of the clients want the PR itself. They want to be verified as a result of the PR – so PR is just a stepping stone and not the end goal. Imagine buying a PR plan for a couple of thousand dollars, and it doesn't get you verified. Well, that's just of no use at all. Worst of all, most of these sellers out there know that what they're selling is useless, but they still do it to scam unsuspecting clients.
And this is why we came up with the guaranteed Instagram verification with PR package. We will do the PR, and we will get you verified. It's a package. And, in a case where we fail to verify you, as a result of the PR that we do, you won't have to pay for the PR at all.
Step-by-Step Process
The process is simple. We can verify virtually any individual or business. And we can help with Facebook, Instagram, and TikTok for verification with PR. Here are the steps:
First, we'll need a 500-1000 word bio from you that covers your life, education, career, business, achievements, and/or investments. We'll be using this bio to build your articles. For businesses, this can be background on the business, the foundation, the mission, the vision, and partnerships.
Next, we'll need 4-5 HD photos from you to cover photos for the articles.
Next, we'll send you a small questionnaire that you'd need to answer and send back to us. We will use this questionnaire as a reference point whilst preparing your articles.
Our editors will build up 10 or more headlines, and we'll forward the same to you for your approval. Once you've approved the headlines, we'll go to the next step.
In this step, our editors will buildup drafts for all the articles, and we'll send the same to you for your approval.
Once you have approved the articles, they will be sent to publishers and queued for publication.
Once the articles are published, we will send you all your live links for your reference.
Finally, we'll submit your profile for verification. Note – we do not require access to your account or your login details. We make ask you to make a few quick changes to the bio and page category – and that is it. In no time, you'd be verified.
Cost and Time
If you have zero PR, it would cost between $12,000 to $15,000 for PR + Instagram Verification. As mentioned above, this is a fully guaranteed package wherein we guarantee your IG verification as a result, or else you get the full money back. For more info on our plans, check out our Instagram verification service.
You can also check out our PR + Facebook Verification and PR + TikTok Verification options for more info.
If you have some PR already that is both credible and notable – then the cost can vary a lot depending on how valuable the PR you have is. To get a quote, kindly contact support@freshengagements.com. Read our article on what type of PR works and what doesn't here to determine if the PR you have is valuable or not – Guide to Instagram Verification.
Full PR package can take up to 90 working days if starting from scratch. And it can take as low as 7 working days if you already have a bunch of PR about you. In all, the entire process is done for you from the start till the end. And, you are insured by a money-back guarantee in case you do not get the result.
The Sites We Use
And now on to the biggest question. What sites are we going to use? And, can you choose the sites?
We maintain relations with over 100 publications at all times over a wide variety of niches. Given the guaranteed nature of this service, we would be the ones selecting which sites we'd be using for each client based on their niche and profile, and bio. It is impossible to pre-select a group of sites as no two clients will have the same PR. Additionally, we regularly change the sites that we use to ensure not all the clients have the same PR on the same sites.
Additionally, we prefer not to share the list of sites we have in stock to protect the privacy of the sites and the editors we use.
How Do I Get Started?
All you have to do is click the button below and send us some quick info. Once you send over the details, our team will get in touch with you within a matter of hours to further discuss your verification requirements. And – before you know it – we'll have your Instagram profile verified with a blue badge.