Read Time:
7
minutes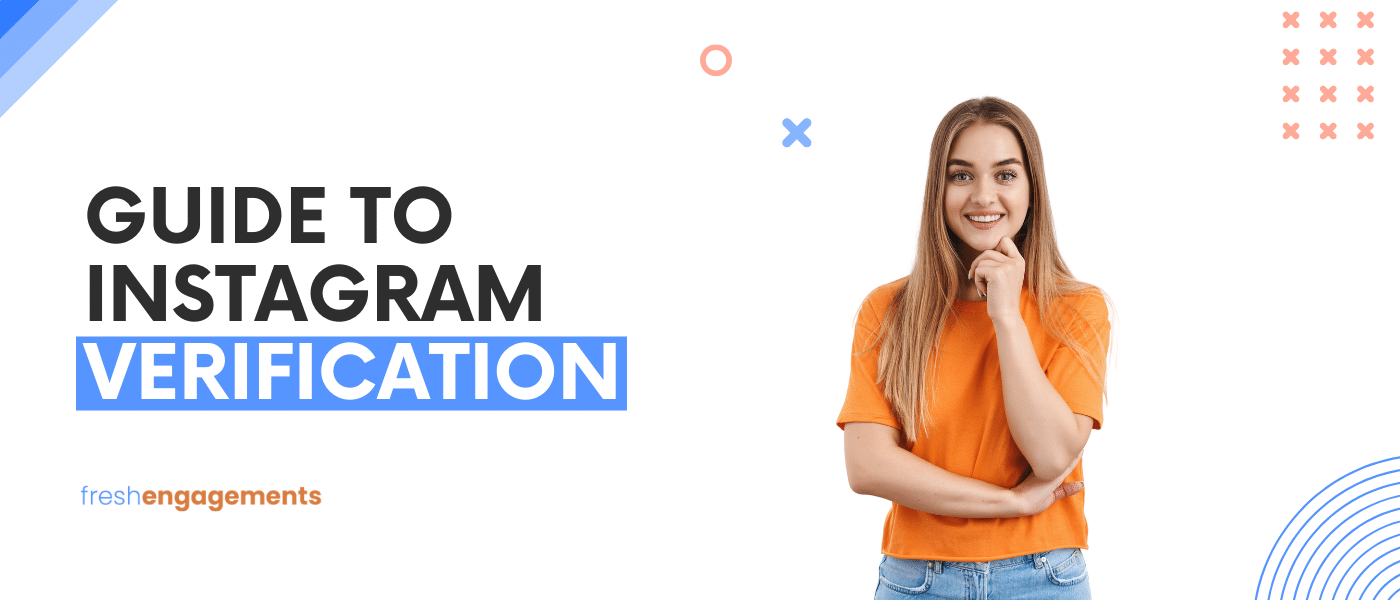 Complete Guide to Instagram Verification
In this guide to Instagram verification, we are going to talk about everything imaginable about that coveted blue tick and how to get one. It's no secret that the one and the only requirement for verification is the amount of web presence you have. In other words, the number of full features you have on notable news and media sites. When people Google your name, are there dozens of results from reliable news sources? Do you have a Wikipedia page about you? How about interviews on sites like HuffPost, Forbes, and Entrepreneur? And this – is the only thing that decides your fate with verifications.
In today's guide – we are going to talk about what types of articles work and what types don't. While having ten articles should be plenty to get verified on any social platform, it should be noted that these should be from reliable and notable sites. In other words, ten quality articles on well-known sites are better than 100 non-quality articles on unknown sites. And, today, we will be talking about what counts and what doesn't, when it comes to social verifications. And this applies to all platforms from Instagram to Facebook to Twitter to TikTok.
What Doesn't Work:
Free-to-Publish Articles
It should be a no-brainer that articles on sites where anyone and everyone can publish are a big no-no. Articles on such sites do not add any value and are deemed non-reliable by social networks. A prime example of this would be medium.com. Publications like SteemIt and ThriveGlobal, where almost anyone can apply to become a publisher, also do not add any value when it comes to verifications. While there is no set list of sites that you should avoid when building your web presence – the one thing to always avoid is free-to-publish sites.
Pay-to-Publish Articles
Next comes pay-to-publish articles that are available all over the internet to anyone who can pay for it. Similar to free-to-publish publications, these sites add almost no value when it comes to verifications unless you are paying to publish on very notable sites like Forbes, HuffPost, New York Times, and similar. Paying freelancers on Fiverr or Freelancer.com to get you published on random blogs and sites that no one knows about – or worse, ones that EVERYONE pays to post on is a big no-no. Just browsing for a few seconds on Fiverr and you'll quickly see specific sites are being sold by dozens upon dozens of sellers. You can rest assured these won't help as its public knowledge that they are readily available for pay-to-publish. Examples would be sites like Frisky.com, Disrupt, Yahoo.com, and IBT, among many others. It must be pointed out that these sites did work up until one point in the past until things got out of hand, and they got blacklisted—more on this in the next point.
Indian Press Release Packages
Back in 2018 and 2019, a group of individuals started doing something tacky. The idea was simple yet brilliant. They collected ten Indian news sites where they could publish full feature articles for almost no money. And they started building a quick web presence for anyone and everyone on these ten sites to help them get verified. It was as simple as that back in the old days. You get a PR agent who charges you some $1000 for ten articles that are poorly written.
In a matter of 3-5 days, you have the articles published that show up on Google News. And then, they apply for your Facebook and Instagram verification for another $6000, and another 3-5 days later, you are verified. Viola! It worked flawlessly until a point came that everyone and anyone was doing the same ten sites to get the same ten articles and get verified. And as you can imagine, a time came when Facebook quickly cracked down on this and made updates to ensure that this never happens again. And – well, the update pretty much buried this method.
However, the PR agents who were pushing these sites are still out there trying to sell articles on the same sites to unsuspecting clients to make an unfair profit. All this while they are well aware that these sites are blacklisted and will not help the end-user with verification. Examples would be sites like Deccan Herald, Ritz Herald, Nagpur Oranges, Asian Age, Deccan Chronicle, The Stateman, The Indian Saga, NetNewsLedger, The Hans India, and others.
Mentions on Notable & Reliable Sites
Yes, you read that correctly. Verifications usually require ten or more full feature articles that are all about you. While having mentions on notable sites is excellent and may help your verification case, you will still need a set of ten full features on reliable sites. So, what are mentions anyway? Mentions are simply mentions. In other words, let's say there is an article on Forbes that talks about the financial market that quotes five different experts on the topic, one of which is you. In the entire article, only one or two lines are about you, and the remainder of the article covers the main topic and other individuals. And, that is a mention. A full feature, on the other hand, is an article entirely about you, where you are the main topic itself.
Promotional Publications & Wire Press Releases
One of the other traps that unsuspecting buyers fall for is buying press releases from PR agents who promise them that it's enough for verification. Press releases are considered 'promotional' publications wherein you are promoted to be published on a site by a PR agency. In other words, social networks know when an article is a full feature by the site contributor/editors and when an article is just another press release.
As an example, an article on Yahoo that features you and is published by an editor on Yahoo holds a lot of weight. However, an article on Yahoo that is posted there by a press release agency wherein at the bottom of the article it says 'No staff from Yahoo was involved in the publication of this article' – such an article is worthless. When shopping for publications, always ensure that you are buying full feature publications and NOT press releases as they are useless in every way.
What Works:
Full Feature Articles
Full feature articles on notable and reliable sites! Ten or more of them! And that's all you need. A full feature is an article that is solely about you. Articles that have your name in the heading or your photo as the cover photo are highly advantageous. Now, what makes a site notable and reliable? Does this mean that you need ten articles on publications like Forbes, HuffPost, INC, and so on? Of course, not! If you have those, that's great, but that is highly unnecessary.
Reliable sites can be international or local news sites where only the publications' editorial staff can make publications. In other words, these are sites where random individuals cannot become publishers – nor are these sites readily available or sold on freelance sites like Fiverr. It must be noted that these sites must be Google-news approved sites, meaning, articles that this site publishes appear under the 'Google News' section.
Local sites are eligible as long as they're quality sites. International sites are great too! Niche-specific sites are advantageous. Example: If you are a photographer and you have coverage on photography media and news sites. It is possible to purchase a set of ten articles on notable and reliable sites by working with high-end marketing agencies. At Fresh Engagements, we can help clients with high-quality publications too. For more details, kindly email us at support@freshengagements.com. Additionally, it's good to note – you can always pitch your story to different publications from HuffPost to the New York Times – and if you're lucky, they may publish about you.
Wikipedia
A Wikipedia page is the ultimate stamp of web presence. Having a full and active Wikipedia page itself requires you to have dozens of reliable and credible articles and mentions. A Wikipedia page adds a lot of value to any verification case. Side note: many mock Wikipedia sites are being falsely sold as being useful for verifications when in fact, they are not. Examples would include EveriPedia and Wikitia, and so on. The only thing that counts is the actual Wikipedia site. You can bypass everything else. It must be noted that while having a Wikipedia is highly advantageous, it is not at all mandatory.
Google Knowledge Panel
A Google Knowledge Panel is an information box that pops up when you Google a famous name or entity. It is a quick snapshot of the person or entity you are searching for. It usually includes a bio of the person/entity, social links, reviews, and a photo. A Google Knowledge Panel is a big plus-point for any verification case. It adds a lot of value in convincing the social network that you are indeed famous and regularly searched for.
At Fresh Engagements, we do help clients with GKP queries from time to time. It must be noted that a GKP is an excellent addition to verification cases. However, it doesn't count towards an article. Meaning, you'd still need ten full feature articles apart from your Google Knowledge Panel. It must be noted that while having a GKP is excellent, it is not at all mandatory.
Website
A professional and updated website helps a lot with verifications. If you don't have one already, you can always quickly create a one-page responsive website using Squarespace or Wix, and it shouldn't take more than a few hours. A full website adds a lot of credibility to your profile and adds a lot of weight to any verification case. It must be noted that a website can be a plus point but is not mandatory. At Fresh Engagements, we have verified plenty of profiles across FB, IG, and Twitter that didn't have a website.
Conclusion:
And there you go. Now, you know what type of articles count and which ones add no value! We hope you found some value in our guide to Instagram verification. Confused about where to start with your publication requirements? Contact us today via support@freshengagements.com, and we will be able to help. Already got the articles are not able to get verified via in-app submissions? We can help! Check out our Instagram, Facebook, Twitter & Tiktok verification services.
Until next time!