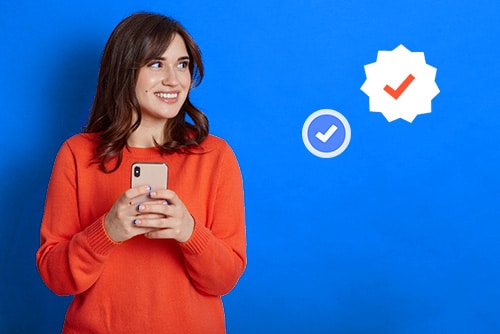 Guaranteed Facebook Verification Service
If you're unable to verify your Facebook page, then you've come to the right place. Whether you have all the PR that makes you eligible for verification or not – we can help in either scenario.
Over the years, we have helped verify hundreds of Facebook pages and profiles. Our service relies on legitimate channels by making a profile completely eligible as per Facebook policy. In short, our service is 100% risk-free and backed by a money-back guarantee.
So – if you're ready to get your Facebook page or profile verified, let's get started! Check out our Facebook verification service details below.
Here are the requirements that make you eligible for Facebook verification –
Verification solely depends on the amount of web presence an individual or brand has. At a minimum, you must have 10 full-featured articles about yourself.
The articles about you must be full features and not mere mentions. And – these cannot be wire press releases. In addition, articles that have your name in the title are advantageous.
Articles must not be on free-to-publish websites. For instance, sites like Medium, ThriveGlobal, MarketWatch, and similar.
A Wikipedia page, Google Knowledge Panel, and a website are all optional but highly advantageous.
Don't have the necessary web presence? We can help! Check our PR + Facebook verification packages below. 
The process for verification is simple and quick. Here is the process for our Facebook verification service –
Please note – you can apply for verification within the app at no cost. Our service only comes in if you are unable to get verified by direct submission despite having plenty of media coverage.
You can begin by submitting a free verification eligibility check form on our website.
Based on your PR, we'll inform you if your profile is eligible or not.
If your profile is not eligible, you can opt for a PR + FB verification package with a money-back guarantee.
If eligible, we will prepare an application and submit it to our media partner at Facebook on your behalf and get you verified in no time.
Log-in details are not necessary for this service.
Get your personal or brand Facebook page verified in no time
You must already meet the eligibility requirement for verification
A minimum of 10 full features on notable sites is a must
For artists and musicians – a verified Spotify is a must
No login or access required
Delivery in under 7 business days
Check Eligibility for Free
Get guaranteed PR + FB verification service for your personal profile or page
Service includes 8-10 full feature articles on notable news sites
100% money-back if Facebook is not verified
No login or access required
Delivery in under 30 business days
Check Eligibility for Free
Get guaranteed PR + FB verification service for your brand profile
Service includes 10-15 full feature articles on notable news sites
100% money-back if Facebook is not verified
No login or access required
Delivery in 60 business days
Check Eligibility for Free
100% Risk-Free. We guarantee all our services. You only pay for success and results!
Quick Results. We value your time and work super hard to get you closer to your goals as fast as possible.
Safe & Secure. Your privacy is of utmost importance to us. We do not share or track our clients' data in any way whatsoever.
Do you require login details?
Never. We do not require your login details for any of our services. You simply need to let us know of your article links, your social media links and we'll take care of the rest.
Are there any risks?
No. Our service works by the legitimate application of claim requests to social media networks. We raise all our requests via professional mediums to respective social networks. This service is 100% risk-free.
How does the payment work?
If you're an existing partner or agency registered with us, there is no upfront payment required. For new clients, we require a full upfront payment. Our site supports secured payment via VISA and MasterCard. Additionally, we also accept payments in cryptocurrency.
Can I lose the tick?
No. Our service gets your profile verified in a legitimate way. Only profiles that have media coverage can get verified. Therefore, your badge cannot be taken away unless you break the respective social network's ToS.
What is the minimum follower requirement?
Follower count is never a requirement for verification. Additionally, factors like engagement ratio, fake followers, and the number of posts do not matter either. In short, as long as you have a web presence, that is more than enough.
I got rejected by the app, can I apply with you?
Yes, of course! You can apply with us. Our Facebook verification service is able to bypass the 30-day wait required by the app. Additionally, if you have applied via another agency and been told you'd have to wait 30 days to re-apply, we can bypass that waiting period too.
Is it guaranteed?
Unfortunately, with these services, the final decision rests with the respective social network. In most cases, the requests are approved, but there can be cases wherein a request is denied. Consequently, a full refund is applicable in case a request is denied. For our guaranteed PR + Facebook service, you are guaranteed verification or a full refund if we fail. In other words, if we fail, we won't even charge you for PR. It would be on us.
What is a reliable and credible press?
Articles on sites that are familiar and famous are generally credible. In addition, if articles appear under Google News that is advantageous. Both local and international news and media sites are acceptable. Articles on sites where anyone can publish or pay-to-publish are not considered reliable.
What if I don't have any PR?
Not to worry at all! We have plenty of clients for whom we built PR from scratch and then got them verified on all platforms. We are the only provider in the world that can provide guaranteed PR + FB verification packages. Under our PR with Facebook verification service – we guarantee you a blue badge or a full refund.
What if I have partial PR?
We have plenty of clients who already have some PR but it's not enough. In such cases, we can build you the PR you need to be eligible for and guarantee verification for your Facebook account.
Do you need a trademark for business profiles?
An online trademark can be a great advantage for the verification of the profile. However, it is not a requirement for our Facebook verification service. In short, as long as your brand has good media coverage on reputable sites, we will be able to help with verification.
What is your refund policy?
A full refund is applicable if we are unable to deliver the service. However, once the service is rendered and the claim is completed, no refunds are applicable.