Read Time:
9
minutes
There is nothing more frustrating than getting your Instagram account banned! Trust me, I know! All the years of hard work and progress gone in a second. It stings. But, there is light at the end of the tunnel!
In today's blog, we'll go over several ways you can unban your Instagram account. And yes, it doesn't matter if your account is permanently disabled, or has more than a few violations and has been banned – we have a few ways to help you get your Instagram account unbanned.
So, let's dive right in, shall we?
Types of Instagram Account Bans
To begin, we need to first understand the different types of Instagram bans. You see, not all bans are the same. Here is a quick overview of different types of Instagram bans –
Action Block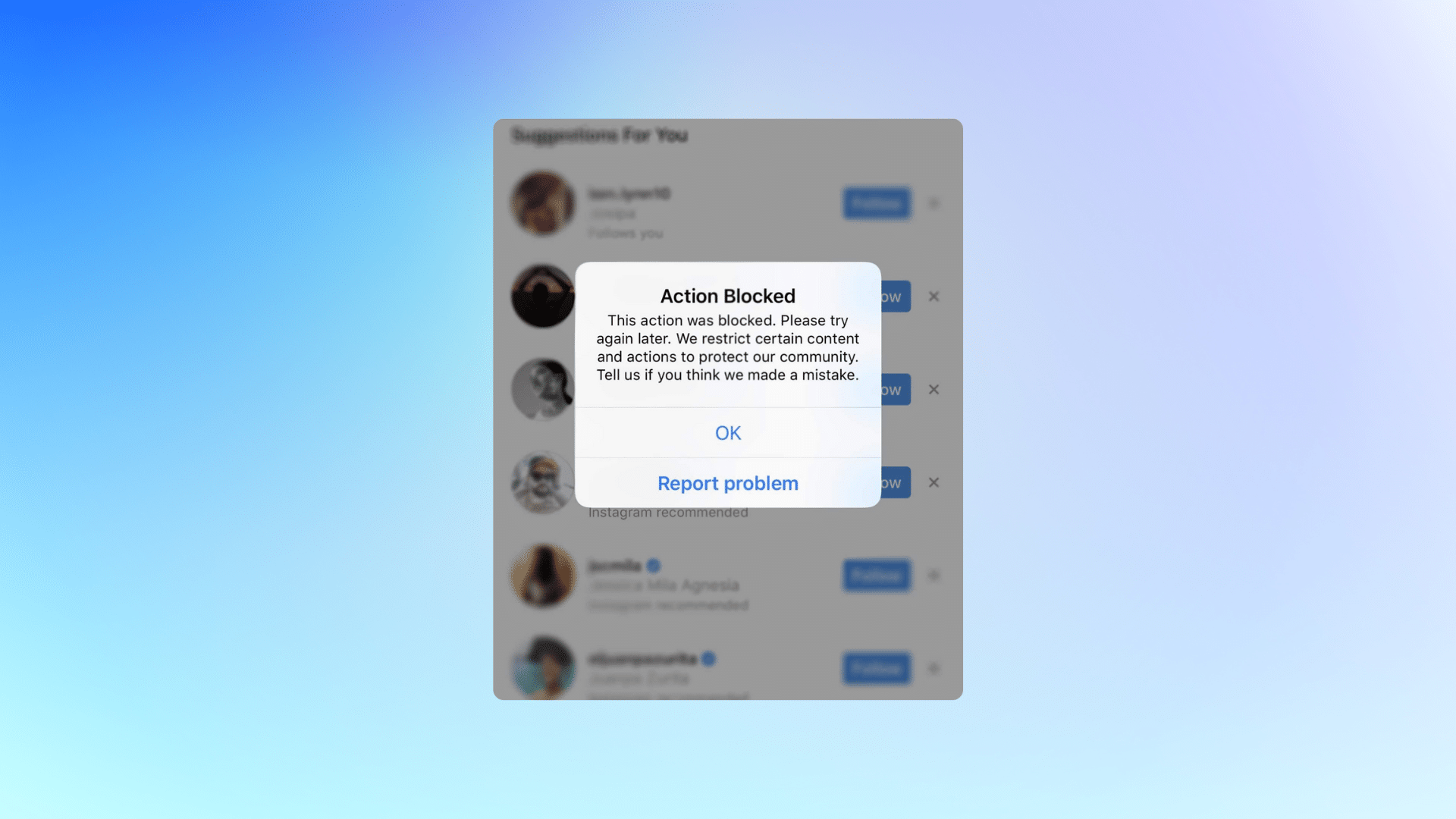 An action block is a temporary restriction placed on an Instagram account that is suspected to have been using spammy tactics on the Instagram platform. This could be anything from liking too many posts at a time, or leaving too many random comments, and so on.
Typically, this type of ban is imposed for a set period of time (from a few hours to a few days) and automatically lifts once the period has passed. The primary cause of this ban is that your account is flagged for breaking Instagram ToS. We'll discuss more on this in the next chapter.
Temporary Ban
A temporary ban is a type of ban where your Instagram account may be disabled, however, you might be able to recover it. Typically, a temporary ban arises from breaking community guideline rules which we'll discuss more below.
A temporarily banned Instagram account is far easier when it comes to recovery than a permanently banned Instagram account.
Permanent Ban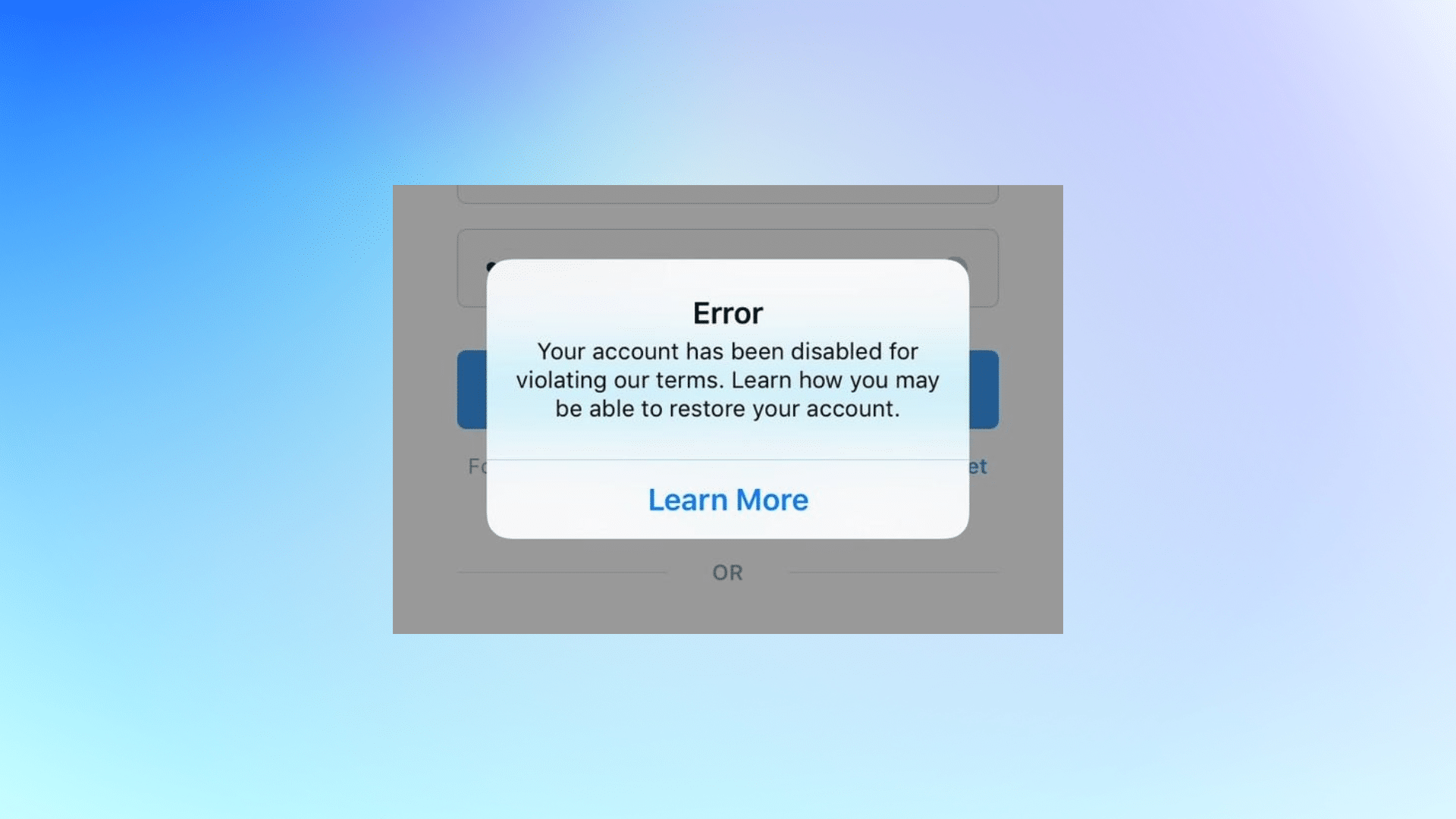 A permanent ban is a case where your account is permanently banned. In this case, your profile is disabled and your content is no longer visible on Instagram. Depending on the type of permanent ban, this could also mean that you are no longer allowed to a new account on Instagram.
Additionally, it should be noted that, once an Instagram account is disabled, you will no longer be able to register a new account with the same Instagram username.
Common Reasons Why Your Instagram Account Maybe Banned
Now that we understand the different types of bans, let's take a look at what causes these types of bans. Typically, all the reasons below take have something or the other to do with breaking Instagram community guidelines.
Additionally, understanding the exact reason for your Instagram ban will help you correctly resolve it.
Terms of Service / Artificial Ban
One of the most common types of Instagram account bans is due to violation of terms of service. These typically occur when Instagram has reason to believe that you are actively breaking their terms of service.
To understand this type of ban, you have to understand that Instagram (just like any other social network) is against any kind of spam on its platform. Any account that employs spam tactics to inflate its engagement or follower count directly breaks Instagram's ToS.
Here's the kicker: You may not even know it, and your Instagram may already have been flagged for breaking ToS.
The primary cause of these types of bans is third-party apps, online websites that have 'growth services', or any similar services.
Typically, these 'growth' services will perform mass actions of follow/unfollow/like/comment via a bot, which leads to getting your Instagram account flagged. So, if there is any third-party app or service that you use which aims to inflate your engagement or follower count, we'd advise against it.
It may not have happened yet, but, sooner or later, your account will get banned due to these spam tactics.
It must be noted that purchasing followers/likes/views on Instagram don't lead to violating their ToS. This is because, when you purchase Instagram followers/likes or similar services, you are not actively giving away your login detail, and your account does not perform any spam tactics. For this reason, there is no concrete reason from Instagram's point of view, that it is you, who has purchased the followers.
In other words, you could buy 100,000 followers for a friend's account without their knowledge (since login details are not required to buy Instagram followers). Of course, this does not mean that you can get their account banned. Pretty neat, huh?
Copyright Content
The next most common type of ban/violation is copyright content. This is a case where individuals or businesses report your content (post, story, reel) because it infringes on their copyright material.
According to Instagram, you can only post content that doesn't violate someone else's intellectual property rights.
Here is how this usually goes: At first, Instagram will give your account a strike and automatically take down the content (post, story, reel) that infringes on copyright. However, if you repeatedly post content that infringes on someone else's intellectual property, this is when Instagram may permanently disable and ban your account.
Sexually Explicit Content
Another common type of ban is a sexually explicit content ban. Now, this can be a bit of a grey area. If you've spent a bit of time on Instagram, you've most likely come across a fair share of super sexually explicit content. In fact, it's all over the place and is thriving (not that it's a good thing).
So, what exactly does Instagram mean by sexually explicit content?
Accordingly to Instagram, if your content features see-through clothing, a film of sexual activity, or 'adult' content, that is when they will take down your inappropriate content and give your account a strike. And as you know by now, if you repeatedly get these strikes, your Instagram account will then be permanently disabled and banned.
Hate Speech Content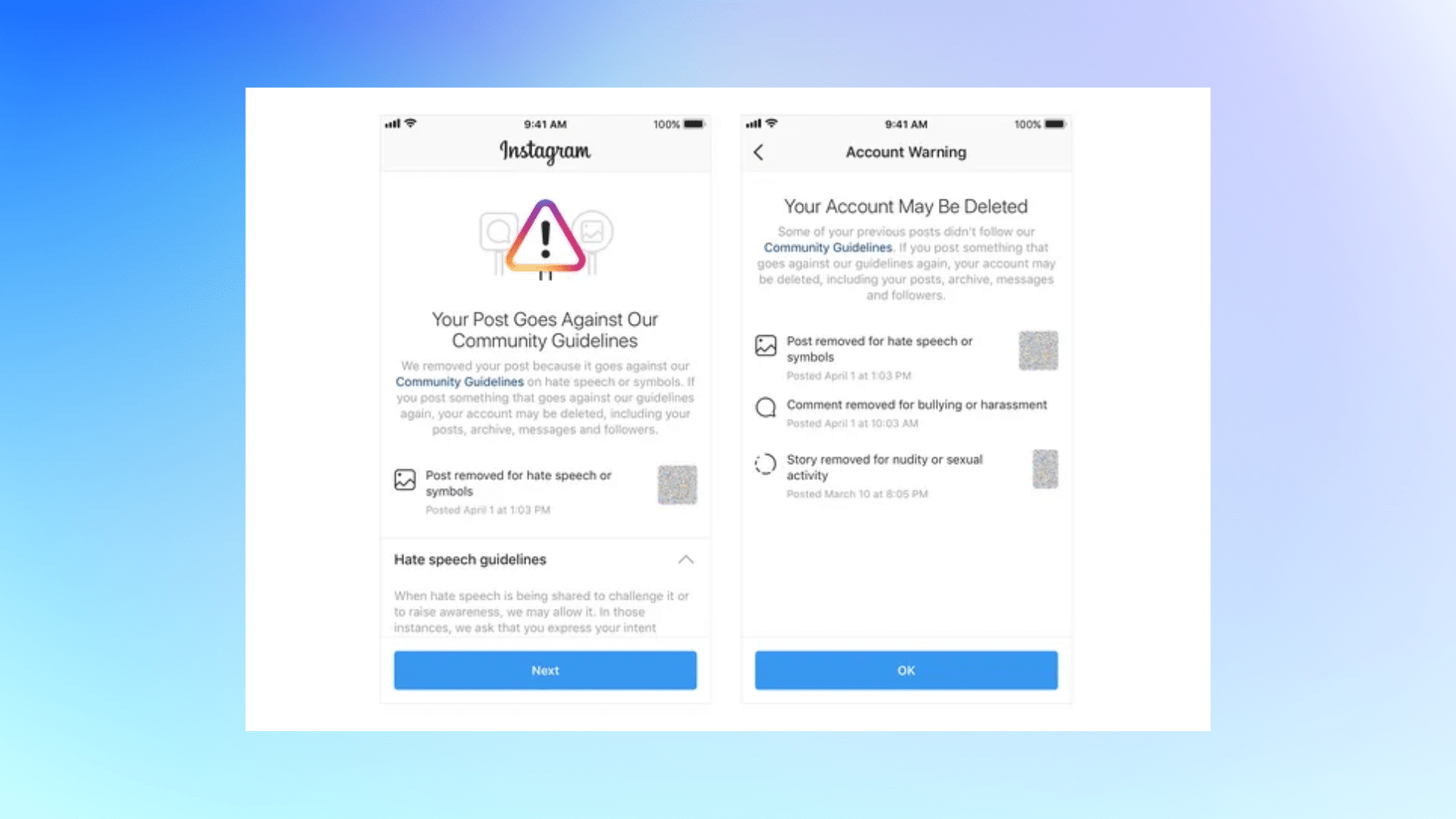 Another common type of ban is a hate speech content ban. Posting inappropriate content that promotes hate speech or hatred against any ethnicity, race, nationality, color, and so on, can lead to getting your Instagram banned.
Additionally, any content that promotes violence, suicide, or similar content can get your Instagram profile banned as it goes against Instagram's community guidelines.
Impersonation
This is a case where someone or a group of Instagram users have reported you as someone who is impersonating another individual. Whether it's another individual, a public figure, or a brand – impersonating someone else can lead to your Instagram account getting banned.
Now, chances are you might have noticed lots of scammers on Instagram who actively impersonate other famous individual for financial gains. So, why is it that Instagram doesn't ban them? Well – to put it simply, an impersonation ban is typically done when a group of users has submitted a report via Instagram, and Instagram has manually reviewed the report and accordingly taken an action.
Memorialized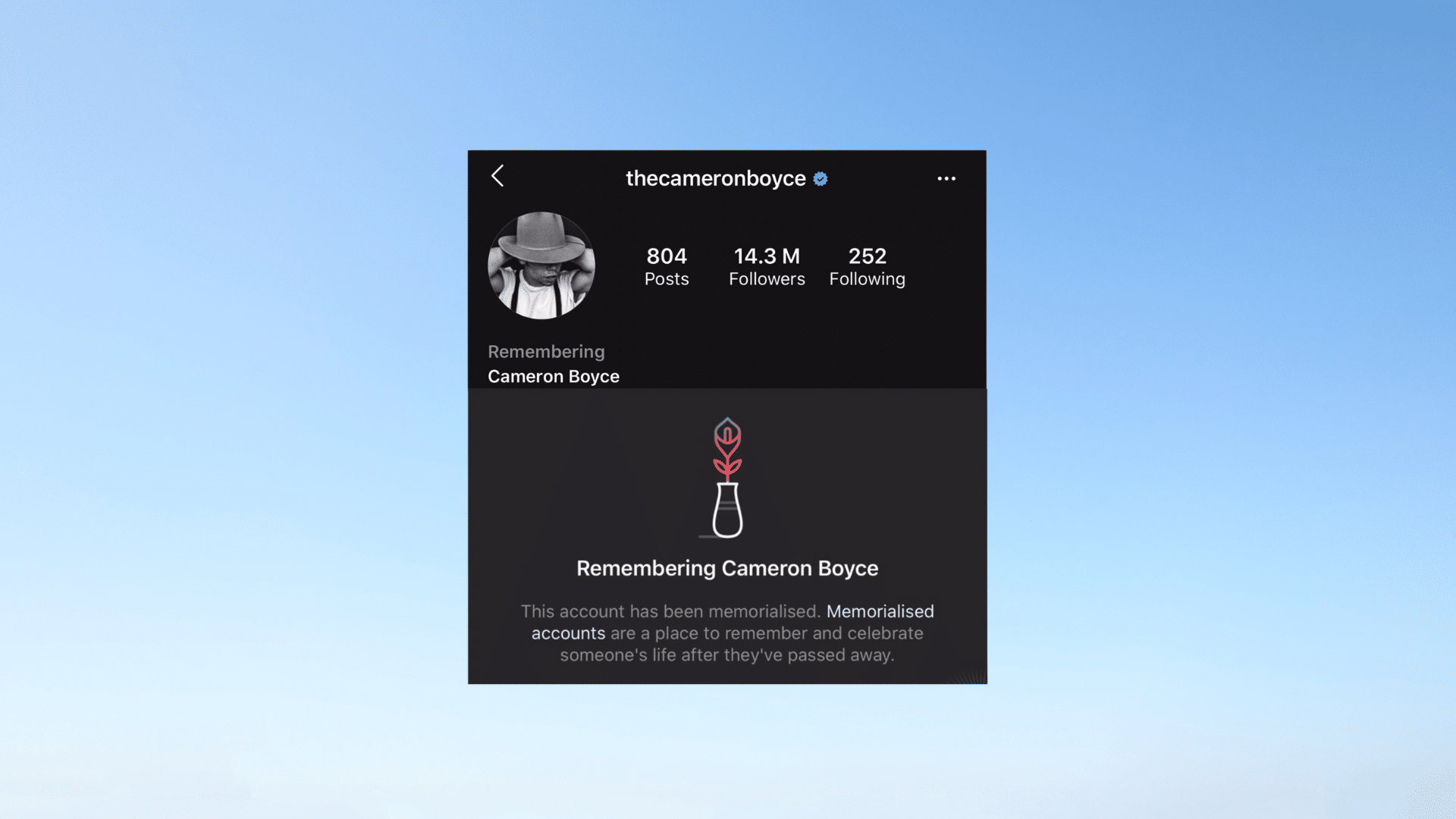 Now this one is super tricky. There are bad actors who have certain ways through which they can trick Instagram to memorialize your account. A memorialized Instagram account is a state of account that is reserved for individuals who have passed away. In this case, Instagram may memorialize the individual's account, wherein, the account name will say 'remembering'.
Now, when an account is memorialized, you cannot make any posts to the said account (posts/reels/stories). You cannot send/receive DMs, reply to comments, and so on. In other words, the account is pretty much stuck in limbo, and sort of disabled from most actions.
In the past, there have been cases where people's accounts have been wrongfully memorialized.
Age Restriction
Another type of ban is where your account is banned if Instagram has reason to believe that you do not meet their minimum age requirement as per their terms and policy.
At the time of writing this article, the minimum age requirement to use the Instagram app is 13 years of age.
How to Find Out What Type of Instagram Ban You Have
Alright, now that we know the different types of bans that exist, we can now find out what exact type of ban we have.
The quickest way to find out what kind of ban you have is to click on 'Learn More' when you log in to Instagram via the web or app. When you do so, you'll see a notification telling you that you've been temporarily banned or action blocked. When you tap on 'Learn More' that's where you can find in detail what kind of ban you have.
In the case of a permanent ban, you'll see a notification (upon login) that your account has been permanently suspended. In this case, you will have an option to 'appeal' Instagram's decision for a set period of time, once this period has passed, you will no longer have the open to appeal or recover the account.
How to Recover an Instagram Ban
Alright, let's get to the good part, shall we?
First, it's always a good idea to check if your account has any kind of strikes. Regardless of whether or not your account is banned at the moment, it's a good idea to know of any existing strikes.
You can find out if you have any strikes by navigating to your settings > account > status
If you have been banned, you will see a pop-up upon login which will note that your account has been banned. Within this pop-up, you will have the option to click 'learn more'. It is within this section that you will find out the reason for your account ban.
At the same time, you will have the option to submit an 'appeal', where you can tell Instagram that they've made a mistake.
In a case where you submit an appeal, Instagram may reply via e-mail letting you know if your appeal has been accepted or if their decision is final.
Now, if Instagram mentions that their decision is final, and there is no other option left for you to take, we would suggest hiring a social media agency (like us) to help with unban. Let's discuss this in the next section!
Got Your Instagram Account Banned? We Might Be Able to Help!
Social media agencies like Fresh Engagements (and others) have specialized access to social media networks via a private portal. A portal is a private access where agencies can submit and escalate all kinds of requests. From username claims, and verifications to unbans – some agencies have the ability to request all kinds of things through a human representative at the said social network.
In our case, at Fresh Engagements, we've helped clients will all kinds of Instagram account bans. From sexually explicit content to impersonation and even memorialization – we've helped recover hundreds of disabled Instagram accounts over the years.
In a case where you are not able to recover the account yourself, our team can definitely help!
FAQs about Instagram Bans
How long does Instagram ban last?
The duration of the ban period depends on the type of ban, and only you can know the duration of your ban. Upon login, Instagram will notify you of the ban and duration thereof.
How long does it take to get unbanned from Instagram?
When you submit an appeal for unban, Instagram typically replies within 3-4 business days. However, we've had cases where users never got any reply from Instagram despite several appeal submissions.
Can you get an Instagram account unbanned?
Yes, you can ALWAYS get an account unbanned. If not via an appeal, you can always hire a seasoned social media agency to help you recover your Instagram account.
Is an Instagram ban permanent?
Yes, there are certain types of bans that are permanent, where your Instagram profile is deleted and disabled, with no option to recover. However, we have been able to help recover even such types of difficult cases for our clients.
What is the best way to ensure I do not get banned on Instagram?
The most important advice we'd give is to never link your Instagram (or any social media account for that matter) to third-party apps. Unless the third-party app is 'Instagram certified' (such as Hootsuite, Later, or Planoly), please stay away from any and all third-party apps. No matter what such apps may advertise, they are DEFINITELY going to bot your account.
The next tip would be to have a 'complete' profile. This would mean, ensuring that your Instagram profile has a profile picture, a bio, several posts, and so on. Another great tip would be to link Instagram to other social networks (Facebook, Twitter, and so on).
I was wrongfully banned, what do I do?
You'd not believe how many cases we get, where the user's Instagram account was banned wrongfully. It must also be noted that there are several black hat services where sellers offer to 'ban' accounts in exchange for a fee. So, there is no doubt that there are loopholes via which people can wrongfully ban or memorialize Instagram accounts. Unfortunately, even if your ban is wrongful, the only way forward is to appeal it or ask a social media agency for help.
What do you charge to recover banned Instagram accounts?
Our unban services are only available to our existing clients. Unfortunately, due to the nature of this service, we've kept our service private. In case you are an existing client of Fresh Engagements, we'd be happy to discuss your case and provide a quote. Contact us here.
I got a DM about a copyright strike, is it legit?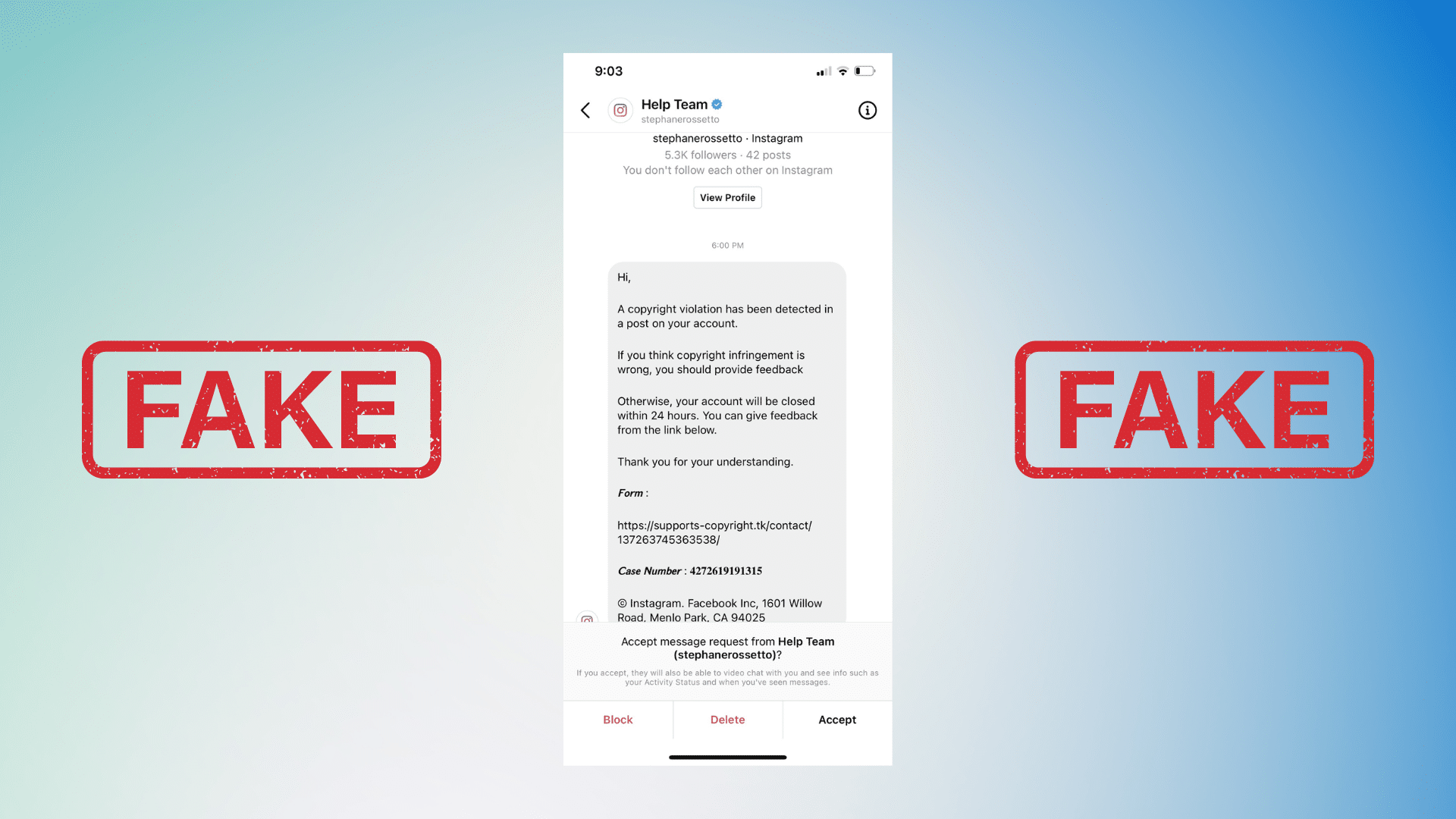 No! Please beware of fake DMs from those impersonating to be from the Instagram team. Instagram will NEVER DM you. Please do not click on any links that someone sends you via DM claiming to be able to help you recover your account or remove strikes from your account. The moment you click the link, they'll quickly snatch your login details and you'll use your account forever.
Conclusion
Instagram bans can be a hassle, especially when it's a wrongful ban. If you find yourself in such a situation and have tried everything to get your account unbanned, then don't hesitate to contact us or any other social media agency for help. Remember that while there are many ways to get an Instagram account banned, there is always a way for you to get it unbanned. So don't give up, and keep trying!
Good luck with your Instagram recovery journey! 🙂